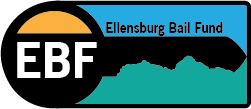 About EBF
The Ellensburg Bail Fund provides cash bail for marginalized people and college students charged with crimes who are unable to afford bail and find themselves incarcerated while awaiting routine court appearances for minor offenses in Kittitas County, Washington State.
This allows people to get out of jail during their trial period and defend themselves from a position of freedom.
People incarcerated in jail are one of the most vulnerable populations, and their protection requires community assistance. Together with university faculty and community partners, we can build an organization to meet the need. Join us in our planning stages.